SINCE 1978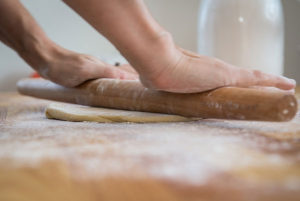 Patisserie Handal was founded in the heart of Bethlehem in 1978. It began as a family business that has since been passed down from one generation to the next. December 24, 1978, Christmas Eve, was the opening day of a new kind of business here in Palestine as it marked the beginning of the first Patisserie Handal on 454 and 456 Manger Street. It began as a cake shop along the main road that incorporated both cakes and pizza into the menu. Not only did Patisserie Handal present cake to the country, but they also introduced pizza. The first cake shop and pizza place opened a new window to not only the city but the country as well. Slowly as the city and the country became accustomed to the idea of a coffee shop, cakes came in much higher demand. This cake shop put keeping customers satisfied as their number one priority, working 6 days a week in order to achieve this important goal.
A couple years down the road, with great success, Patisserie Handal commenced a new product line: homemade ice cream. After only starting off with one machine to aid labor, the first ice cream making company quickly began to sell ice cream on a regular basis. In January 1984, Patisserie Handal expanded their work area and started making their products in what is now their current location. At 30 Star Street, Patisserie Handal allowed itself the space to initiate an open environment in hopes to triple the products it had made in the past. After 2 years of distributing the products to the first location, Patisserie Handal decided to concentrate only on cakes. In 1986, the coffee shop and pizza place closed down, only to expand even further and become an official company. "Patisserie Handal Company Limited was established in 1987 after 9 years of running a family business bakery, pastry shop and ice cream factory founded in 1979," (Municipality of Bethlehem).
After years of this business, it was time to improve products and make some upgrades. In 1987 Victor Handal went to 'Institut National de la Boulangerie Pâtisserie' in France to study and enhance his talents needed to improve the business. Alongside cakes, Patisserie Handal established a new kind of dessert. With the help of Victor's new ideas, Patisserie Handal had the privilege of introducing the first special bread, croiss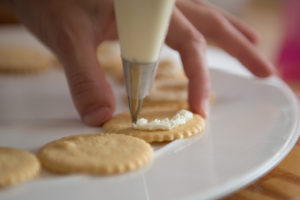 ant, and Danish to the country. "This part of the business was strong going until we gave it up in 1992 in order to concentrate only on cakes and ice creams." Patisserie Handal continues to stand strong selling products of different varieties to not only the city of Bethlehem, but to all parts of Palestine. "Besides being the runners in their field of business in Bethlehem District, Patisserie Handal is a well known name for trust, quality at work, renovation and achievement all over the West Bank and Jerusalem." (Municipality of Bethlehem).
Finest Quality and Always Up to Date.
Our Ingredients are one of the finest and freshest quality that we can get our hands on, using no preservatives or artificial raw materials; never settling for less.
Here at Patisserie Handal, we always like to be updated in the newest technology to ensure the clients demands are produced in both time and quality.
Our Pastry Cheifs
The heart of our business.

Chef/IT Advisor/Assistant Manager
Rémy is the son of Jamal Handal, and his predecessor. Rémy graduated from Culinary Arts Academy in luzern Switzerland with a Advanced Professional Diploma in Swiss Pastry & Chocolate Arts. During his time in luzern he won 3rd place in pastry and chocolate competition two years running, in 2018 and 2019. Rémy is hoping to be the next head of the vast growing family business and to bring a vast variety of pastries, and breads with him.
Chef/Manager/Owner
Victor was born in Bethlehem. Victor unlike his brother stayed in Palestine during the first intifada. While he was here he continued the business at the age of 18. Victor has been working at Patisserie Handal since its opening. Victor like his brother also went abroad to study throughout Europe.
Chef/Manager/Owner
Jamal was born in Beit Jala Dec 22, 1956. Jamal and his brother didn't have much when they were growing up. Jamal work through many jobs including being a gas station owner, a restaurant manager, and a pastry chef throughout his life. Jamal went to many different courses in his years, his courses spread throughout Europe. Jamal studied cakes and business in as many different and well-established schools.